Dr Ileana Garozzo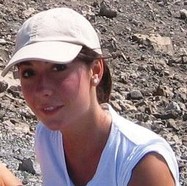 Career
2014 – ongoing PhD student in Environmental and Resource Geology, Roma Tre University.
Thesis on "Transizioni di stile e dinamiche eruttive in eruzioni basaltiche e riolitiche" Tutor: Prof. Claudia Romano; Co-Tutor: Guido Giordano
2013 – M.Sc. in Geophysics Sciences at Università degli Studi di Catania.
Thesis on "Approccio multidisciplinare per la comprensione dei fattori che controllano durata ed intensità dei recenti episodi di fontana di lava all'Etna". Tutor: Prof. Marco Viccaro; Prof. Stefano Gresta; Dott. Andrea Cannata.

Research activities (Mineralogy, Petrography, Volcanology, Geochemistry):

Topics: Mineralogy, Petrography, Volcanology, Geochemistry

Methodologies:
Whole rock (major and trace elements, isotopes); Melts inclusions (Raman spectroscopy analyses); Rheological properties determination (concentric cylinder rheometer, micropenetration method for viscosity measurements, differential scanning calorimeter, uniaxial press). Electron microprobe analyses; imaging analyses for textural characterization (crystal size distribution).