Dr Stefania Sicola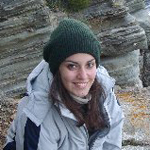 Career
2014 – ongoing: PhD student in Environmental and Resource Geology, Roma Tre University.
Thesis: "Identification of wine traceability parameters of red wines through Raman spectroscopy and isotope geochemistry". Tutor: Prof. Massimo Mattei. Co-Tutor: Prof. Claudia Romano.
2012 – M.Sc. in Geological Sciences at Università di Roma Tre.
Thesis: "Numerical modelling of Torre Alfina geothermal system". Tutor: Prof. Guido Giordano; Co-Tutor: Dott. Micol Todesco.

Research activities (Geochemistry):

Topics: Geochemistry, Food Analysis and Security.

Methodologies:
Geochemistry – solutions (Sr – isotopes, Raman Spectroscopy).